MASTERPULS® Ultra MP50
Simple and Sophisticated Radial Shockwave Therapy
Compact design, low capital expenditure, maximum portability.
Meet the MASTERPULS® Ultra MP50: a small but powerful radial shockwave therapy device that treats major joints and soft tissue injuries alike. The only product of its kind on the market, the MASTERPULS® Ultra MP50 is the perfect non-invasive shockwave entry point for your practice.
Why Choose the MASTERPULS® Ultra MP50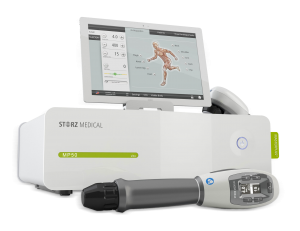 Compact Design

At 9.5 kg, this is our smallest full-scale shockwave therapy machine.

High Return on Investment

Many of our clients make up the cost of the MASTERPULS® Ultra MP50 with only two patients per month.

Maximum Mobility

The MP50 machine can be easily carried anywhere.

Save Your Hands

Perform radial shockwave therapy on patients' multiple times per day without causing stress to your body.

Safety First

All controls are on the FALCON™ handpiece so you never have to look away from the patient.

Customizable Operation

The frequency, energy levels, and number of shocks applied can be adjusted directly via selector buttons.
Quality in the Details
When you choose the MASTERPULS® Ultra MP50, you receive:
The only product of its kind on the market.
Low capital expenditure and maintenance costs.
Newly developed hand control, with all main operating elements integrated into the handpiece.
Optional vibration therapy (V-ACTOR®).
Optional multiple transmitter heads.
MASTERPULS® Ultra MP50 Product Specs
Dimensions without touch screen (W x H x D): 426 x 144 x 340 mm n Weight: 9.5 kg
Integrated compressor
10" touch screen (optional)
Pressure: max. 4 bar eff, frequency: 1 – 17 Hz (depending on pressure) 
V-ACTOR® handpiece (optional): 1 – 21 Hz
Seamless Support
Shockwave Canada prides itself on responsible and cost-effective repairs. We have timely and efficient repair services with Swiss-trained representatives. In the rare instance that there may be a need for extended repair, a loaner unit will be issued to provide seamless patient care.

About MASTERPULS®
The MASTERPULS® Ultra is a Storz Medical shockwave design that impresses with its pioneering single-frame casing and the monolithically designed pneumatic block, which ensures high operational reliability. Clear lines and a front design that resembles a propagating shockwave signal the power of the integrated, extremely silent air power drive and the dependability of this new shockwave device.
As a result, the new MASTERPULS® Ultra appears in a unique and confident fashion demonstrating progressivity, elegance and perfection at the same time – and ensuring stability of value.
The purchase of a MASTERPULS® Ultra provides access to the exclusive ICE Shockwave Portal. There you will find up-to-date information from all fields of shockwave therapy. All you need is an Internet connection and a corresponding display device such as a smartphone, tablet, or computer.
Are you a medical professional? Learn more about Shockwave Canada's products.
MASTERPULS® MP ONE


About Storz Medical
Storz Medical launched the prototype of the world's first shockwave system in 1988. They have continued to develop a series of technological innovations in the field of extracorporeal shockwave therapy.
Offering non-invasive solutions to pressing therapeutic challenges, Storz Medical has cemented its reputation as global leader in shockwave technology.